Where should I apply my formula?
Start with using 1-2 pumps of formula and apply it in on your face to the cheeks, forehead and chin, spreading the formula evenly across these areas. See the diagram below for reference.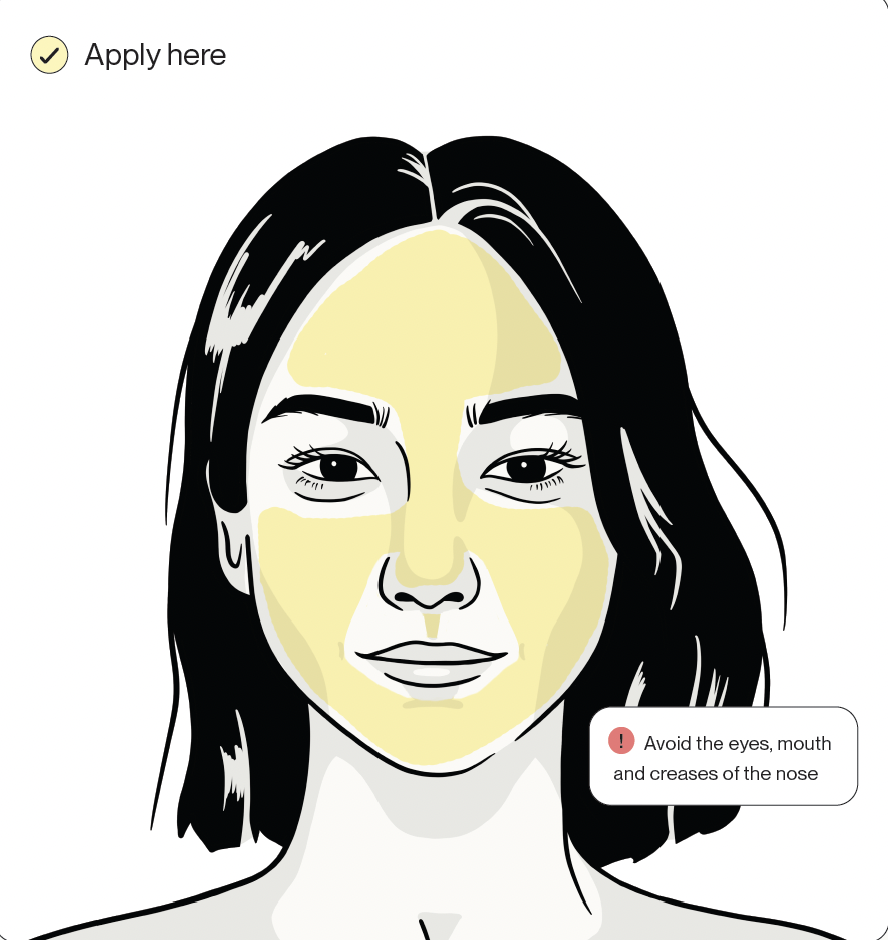 Avoid applying your formula around the eye area, the mouth and creases of your nose. The skin in these areas is more sensitive and so is more likely to be susceptible to side effects such as irritation.
You can read more about applying your formula in this article.
Can I apply my formula around my eyes?
The skin around our eyes is thinner and more delicate in comparison to the skin on the rest of our body. Therefore we do not recommend applying your prescription formula around the contours of your eyes when you are starting out. To protect your eyes, we suggest moisturising before applying your treatment or applying a semi-occlusive agent such as Vaseline around your eyes to prevent your cream from migrating.
If your skin is tolerating your treatment well after a few months and you want to apply the treatment to your under eye area, our Medical Team recommends doing so in an extremely safe and slow fashion.
Here are some tips that can help:
Use the 'Sandwich technique' by applying moisturiser 10 minutes before and after your Software treatment. This allows you to get all of the benefits of your treatment, with an extra layer of protection (or a 'buffer') to minimise irritation.
Apply it only once or twice per week initially, and slowly increase the frequency of application over a period of weeks. If there is redness, dryness or irritation at any time, stop the treatment and avoid using around the eyes altogether.
Please do not apply the treatment on or near your eyelids.
Can I apply my formula on my neck and chest?
We do not recommend applying your Software formula on your neck and chest.
While Software's prescription treatments help refine skin texture and have anti-ageing and acne-fighting effects, it is important to use your treatment strictly as directed by your practitioner.
The skin on your neck and décolletage (chest area) is thinner, more delicate and has less collagen than the skin on your face. This means that applying your prescription cream to your neck and chest is more likely to precipitate undesirable side effects such as redness, peeling or stinging sensations. For this reason, please avoid applying your prescription Software creams to the neck and décolletage.
That said, the neck and décolletage areas are more prone to showing signs of skin ageing. To make sure that these areas get the same amount of love as your face, you can add Software's Advanced Ageing Set to your daily routine. All the products in this set can be safely used on your neck and chest area - the Retinol Oil in particular is a fantastic, hydrating substitute for prescription-grade retinoids.
For more information on our Anti-Ageing Set, please click here.